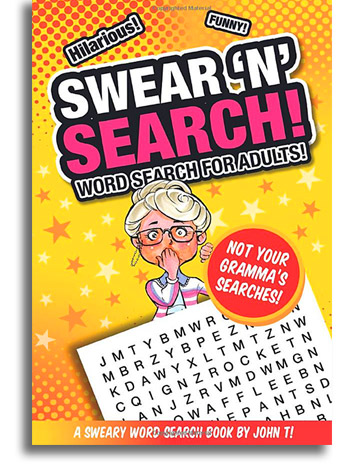 Not Your Grandma's Word Search Puzzles!
The Swear n' Search word search book is jam-packed with a variety of hilarious sweary word search puzzles. These word searches contain hundreds of cuss words along with many different funny sweary topics. Some of these swear words you will be familiar with but there are some that you probably didn't even know existed. In fact, you may expand your swear word vocabulary by the time you finish the book. One thing for sure, these are NOT your Grandma's word searches!
Curse word puzzles are a great way to relieve your stress and relax, much in the same way that swear word adult coloring books allow you to relax. Especially, those who suffer from anxiety, depression and any amount of stress.
Swear n' Search makes the perfect gag gift for any occassion and will certainly suprise those who love word puzzles, crossword puzzles, etc. Surprise someone with the gift of laughter today.
Hundreds of cuss words and many sweary topics
Expand your vocabulary with curse words you never heard of
Makes a great gag gift for White Elephant & Santa gift exchanges
Great way to relieve stress & relax
Great way to pass the time on road trips, flying on airplanes & in waiting rooms