Looking for the best gel pens for coloring books?
If you spent any amount of time looking for a set of the best gel pens for coloring online, you may have been a bit overwhelmed (Amazon.com alone has over 100,000 listings for gel pens!)
Can you imagine the time and money it would take to go through them all to find out which gel pens are the best? And of course, everyone says they are the best.
Although, I haven't tested every single gel pen on the market, I have been around long enough to test my fair share, and had the pleasure and opportunity of being around some very talented artists and colorists. So, I have a pretty good idea of what's good and what's not.
Disclaimer: I may earn an affiliate commission from Amazon.com if you click on a link and purchase any of my books, or coloring supplies that I recommend. How cool is that?!
List of Best Gel Pens for Adult Coloring Books

Gel pens are an interesting coloring medium or coloring tool. When they work great, they are amazing. But when one or two of the gel pens in set don't work as well, it can be a little frustrating.
You would think there would be a perfect science behind them, but even a set of gel pens from a reputable brand may have a few pens that have gone rogue. Maybe it's a certain color, or a combination of style and color that causes the problem.
I took this into consideration when I complied this list of the best gel pens for coloring. I believe that overall, these gel pens will enhance your coloring sessions greatly.
So what exactly is 'Best'?
Of course, 'best' is subjective. My recommendations are based on my experience, research, and feedback from artists and colorists alike.
While I try to determine the best by the quality of coloring, I also consider other things such as quantity of gel pens, number of different colors, and if the set comes with extras such as the nifty little coloring case and refills that you get when you purchase ColorIt gel pens.
Without further adieu, let gets to the list of the best gel pens for coloring!
A Closer Look at the Best Gel Pens

Below, I give you a description and what to look for in each gel pen set featured on my list. I try to mix it up with technical details, features, and pros and cons.
The Sakura Gelly Roll Moonlight Gel Pens are something special. Mostly because they have a fluorescent element which makes the colors pop under a black light. Although these gel pens are designed to color on dark paper, such as midnight edition adult coloring books, they will still work on white paper. Just don't expect the same exceptional results as you may see on darker paper.
This set consists of 10 roller ball pens which contain waterproof archival ink. Each pen has a 1.0mm ball and a .05mm line and are fairly easy and comfortable to color with. Although these gel pens have a good reputation, they may need to be shook from time to time to increase the flow of the ink.
The set of gel pens includes one each of the following colors: fluorescent yellow, fluorescent orange, fluorescent vermilion, fluorescent pink, fluorescent green, red, rose, purple, green and blue.
These pens are a favorite among colorists and even artists alike. For the price, you may find it difficult to find another set of gel pens with that type of brand recognition. That is why it made my list of the Best Gel Pens for Adult Coloring.
---

There are a couple of really cool things regarding this set of gel pens by Colorit.
For one, the set includes a portable carrying case with individual slots for your gel pens. If you are one of those colorists that always lose your pens, it looks like this set is made just for you. The case also helps you to keep your gel pens organized but it also helps to keep them in good condition.
Secondly, there is a refill for every single color in this set. As it stands, this set has 48 pens (24 glitter, 12 metallic, 12 neon). But, it also has a matching refill for each pen. So technically, you get a set with 96 pens. Pretty cool how that works, huh?
Oh, and did you know that this set of gel pens is backed by a 100% satisfaction guarantee? Yep. Pretty frickin' cool.
Overall, the gel pens work good. There may be a few rogue pens in this set but what set of gel pens doesn't have that?
If you are looking for something more than just a set of gel pens, you may want to consider this set by Colorit.
---

I use Pilot G2 black gel pens all the time for writing. They have to be one of the smoothest pens I have used, especially, the 1.0mm size. And the quality is exceptionally good, especially for the price. Although I use them for writing, these pens are excellent for coloring as well.
Two things that stand out right away. One, these gel pens last a long time which is echoed by the manufacturer that states: writes 2X longer than other branded gel pens. And two, each gel pen has a a contoured rubber grip to make coloring as comfortable as possible. Your fingers will thank you later.
The gel pens are also retractable and the ink is refillable so you can continue using the same pens without having to buy new ones. You may spend more up front for these pens, but in the long run you should save some money.
The only real gripe I have about this set of 20 gel pens is that some of the colors are duplicates, and 5 of the 20 are black. So technically, out of 20 pens, there are roughly 15 unique colors. This is defiantly somewhat of a bummer, especially if you don't own any gel pens. But if you are a colorist of a few colors, or want to add a set of gel pens to your collection, then this set would defiantly be a grand addition to your coloring supplies.
In my opinion, these are the best gel pens I have used.
---

Here is another popular office brand which sells a set of gel pens that are fantastic for coloring. The set that I am featuring includes 14 pens but they are also available in sets of 2, 4, 6, 8, 12, and 20. I chose the 14 pen set because I feel there are just enough colors here to add to the experience of your coloring sessions. If you have extra money, consider purchasing the set of 20.
One thing that really stands out with Paper Mate Gel Pens is that they dry super fast when compared to other gel pen brands. Sometimes up to 3x faster. A fast drying pen comes in handy, especially if you are a fast colorist by default or you don't have much time to color and speed is a necessity. A fast drying gel pen allows you to cover more ground in a shorter amount of time.
The gel pens are equipped with .07mm tips and color fairly smooth. Each gel pen also has a comfort grip to make coloring as comfortable as possible. A lifesaver for your fingers. Fun color include: Pink Pop, Red Rush, Orange Rise, Yellow Twirl, and Lime Light.
One of the few drawbacks is that the ink may skip after prolonged use.
Although the Pilot G2 Pens are my #1 choice for the best gel pens for adult coloring, I would go with the set if you want about the same amount of colors but you want to pay a little less.
---

If you want to impress a colorist with a gift, or feeling a little selfish and want to buy yourself a gift (there's nothing wrong with that!), then you will be hard pressed to find something that will make a colorists happy than the Sakura Gelly Roll Artist Gift Set. In my opinion, this gel pen gift set is a colorists dream.
Not only do you get a gel pens by a reputable artist and colorist brand, but you get five sets in one! Yep, that's right. The set includes: 14 Metallic gel pens (.4mm), 17 Classic gel pens (.3mm & .4mm), 20 Moonlight gel pens (.3mm & .5mm), 13 Stardust gel pens (.5mm), and 10 Shadow gel pens (.7mm).
The Sakura gelly roll gel pens work great with regular adult coloring books as well as midnight edition coloring books (black paper.) Keep in mind that the gel pens may need to be shook from time to time.
The quality of the Sakura brand, plus the number of gel pens in this set, makes this the perfect gift for any casual or  serious colorist, even if it means gifting yourself.
---
Gel pens to Consider
The following gel pens did not make the cut because I haven't tested them personally. But based on feedback I have received, you may want to consider these. Once I am able to test them, and if I find them exceptional, I will defiantly consider adding them to the list of Best Gel Pens for Coloring.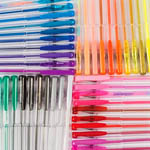 Here is another set of gel pens for coloring backed by a reputable office brand. So I guess I'm not surprise that at the time of this writing, this set of gel pens has also received the 'Amazon's Choice' banner.
This set has 48 gel pens including: 12 glitter, 10 metallic, 9 pastel, 6 neon, 6 swirl, 2 black, and 1 each of red, blue, and green. The tips of the gel pens are measured between .8mm and 1.0mm and the ink is acid-free.
Why would I consider these gel pens without using them or getting feedback from other artists and colorists? Well, in addition to the brand recognition and the 'Amazon's Choice' banner, I would consider these because you get 48 gel pens for a fairly good price.
---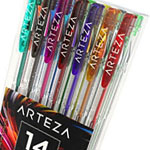 Here is another set of gel pens that, at the time of this writings, has the coveted 'Amazon's Choice' banner. This set includes 14 acid-free and non-toxic pens including 12 glitter and 2 highlighters.
The size of the tips are between .8mm and 1.0mm. According to the manufacturer, Arteza gel pens do not smear, fade, or sink. I cannot confirm this as I have not tested these gel pens.
If you're still not sold, maybe the fact that this set of gel pens is backed by a 100% customer satisfaction guarantee.
---
Final Thoughts: Gel Pens are taking over the world!

Colored pencils or markers may be the most popular adult coloring supplies but gel pens have become a favorite of colorists worldwide. With the pigment suspended in a water based gel, the ink of a gel pen applies thick and opaque which makes it  great for coloring on dark surfaces or black paper. Even so, they will work on lighter colored paper as well.
My favorite thing is that gel pens are the different styles such as glitter, metallic, or even neon, which can have a really cool effect under a black light source.
Feel free to contact me about your experience with the list I compiled, or if you have a favorite gel pen brand that you would like to suggest for the list of best gel pens for coloring.