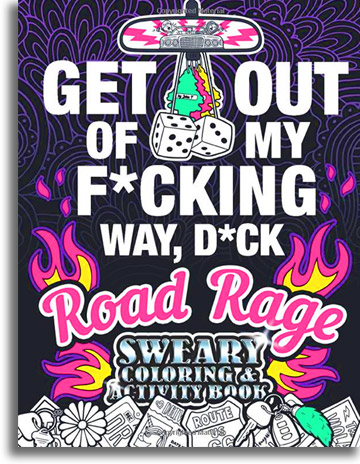 Your License to Color & Chill Out!
Every time you get behind the wheel you risk being a victim of road rage. Inconsiderate drivers may drive way too slow causing you to be late for work, almost cause fender benders because they didn't use their turn signals, or even put your life in danger by driving recklessly.  And sometimes, they even have the gall to give YOU the middle finger. It's enough to ruin a perfect day and drive you mad!
But don't worry, there's a remedy for road rage…
Introducing the Road Rage Sweary Coloring & Activity Book. This fun-filled, hilarious book is designed to help you relax and relieve your stress caused by those drivers who ruin your daily commute.
After a stressful or even furious day on the road…park, relax, and cooool down.. This swear word adult coloring book makes a great gift for anyone who has to deal with traffic, especially on a daily basis.
Over 50 stress relieving swear word coloring book & activity pages
Road rage coloring book pages include regular and midnight edition
Hilarious activity pages include: mazes, word searches, guided journal pages, games, and more
This adult coloring book makes a perfect gift for anyone who has to deal with traffic