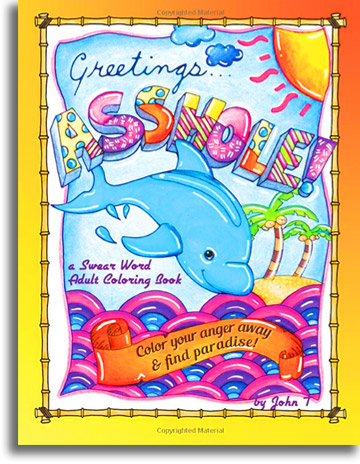 DO NOT BUY this adult coloring book if:
Need to vent? Have a little unwanted stress in your life? Know someone who is an absolute d***weed? If you answered yes to any or all of the above questions, then you need to "Color your anger away and find paradise! The Greetings…A**hole curse word coloring book is filled with hand-illustrated designs inspired by vintage travel postcards of yesteryear. These swear word adult coloring pages will have you and your friends laughing your a**es off for hours! Enough swear words (hopefully) for each and every a**hole in your life! Don't forget to pick up a copy or two for the friends, family, and co-workers in your life!
Your life is perfect. If your life is perfect, you have no drama or a**hles in your life, then you really don't need this adult coloring book to help you relax and vent. But, it doesn't mean you can't pick up a copy for a friend in need!
Your last name is Scrooge, first name is Ebenezer. If you are the salty character from the famed classic, you could defiantly use this swear word adult coloring book. But the problem is, you don't like to laugh! Unless you want to break out of character and have a little bit of fun, you may want to steer clear of this adult coloring book!
You don't like cute little animals that make cute little faces. If you don't like cute little animals like cute little teddy bears, or cute little seahorses, or cute little dolphins, or cute tall flamingos, then I can't really help you. And neither can this swear word adult coloring book because it's filled with cute little creatures!