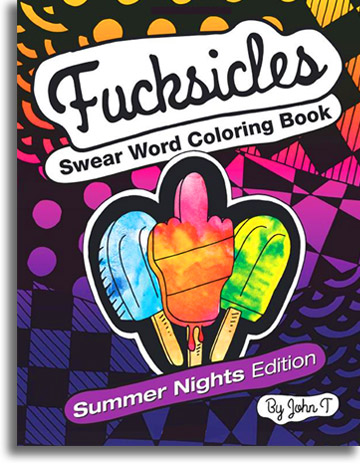 Chill the F*ck Out and Color – SUMMER NIGHTS EDITION!
The SUMMER NIGHTS EDITION is jam-packed full of retro inspired coloring pages featuring swear words and phrases made out of popsicles. Coloring pages are designed to help you relieve your stress, relax, and laugh your brains out. With various flavors, how can it not?!
F******** SUMMER NIGHTS EDITION is an adult coloring book that will have you and your friends wishing it was summer everyday. Makes a great gift for all occassions! Color the summer night away and melt your stress!
Sweary words and phrases made of of popsicle letters!
Printed on black backgrounds so your bright colors will pop!
Includes 5 bonus pages!
Hilariousy funny coloring pages with zentangle and retro patterns!
Makes the perfect surprise gift for any occasion or gift exchange!