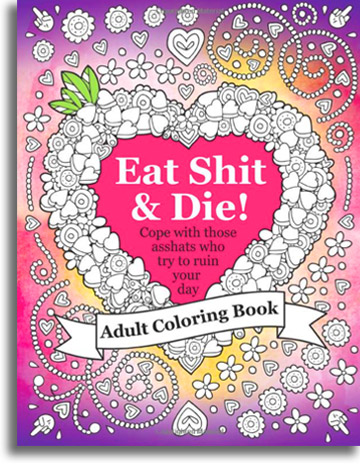 Color, relieve your stress, and relax!
Did someone try and run you off the road on your way home from work? Did that a******** break up with you again? Did your neighbor's dog s*** in your yard again and you just happened to step in it while walking to the mailbox? If you answered yes to any of the questions above, then this cuss word adult coloring book is for you. However, if you answered yes to all of the questions, you may need a few copies because one probably won't be enough. Eat S*** & Die is the latest stress relieving and relaxing swear word adult coloring book by John T. This coloring book is filled with mesmerizing shapes, flowers, and designs to reset when those A**hats try and ruin your day.
Fun patterns, shapes, mandalas, and flowers to color
Designed to help you relieve your stress and relax
Printed single-sided for your coloring convenience
Hilarious swear words and quotes!
Makes the perfect gag gift for any occasion!