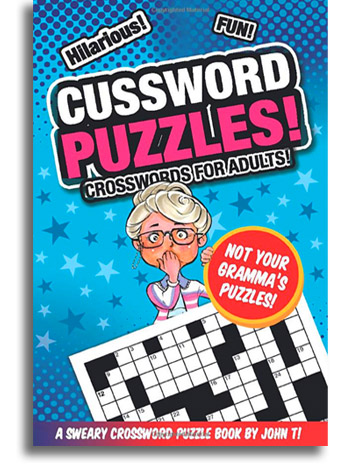 Not Your Gramma's Crossword Puzzles!
Get ready to laugh your a** off as you, your family, and your friends gather around to try and solve the most hilarious of puzzles. Cussword Puzzles is jam-packed full of hilariously funny sweary crossword puzzles! Contains all the familiar swear words but many you most likely have never heard of. You will never look at a crossword puzzle the same again but you will have have a craptastic time!
Perfect gift for any occasion or holiday, especially, if you want to surprise – and possibly scare off your mother-in-law! A great puzzle book for those who love word search, crossword puzzles, sudoku, and more.
Also, this puzzle book is a great way to relieve stress, pass time, and relax, especially when traveling, flying on planes, one road trips, etc.
Hilariously funny crossword puzzles
Hundreds of swear words and a variety of funny topics
Contains familiar and not-so-familar curse words – expand your vocabulary!
Great way to relax and relieve stress!
Perfect gift for all occasions!