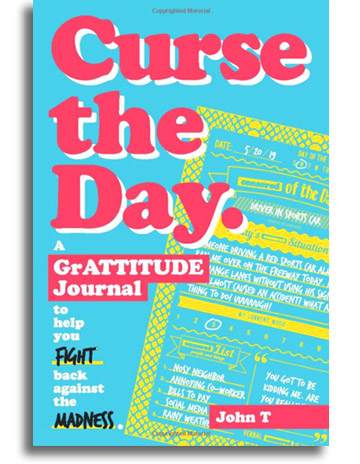 Hilariously fun, daily, guided, swear word fill-in journal!
Curse the Day is a grATTITUDE journal to help you put up with the madness. and take the your day back. The hilariously fun, fill-ins are designed to make journaling easy, quick, and rewarding.
Curse the Day: Guided prompts with fill-in spaces allow you to vent about the people who do you wrong and the debacles they cause!
Mood Meter: 1 thru 10? Mood tracker keeps track of your mood.
Swear Word Scramble: Includes stress relieving activities and fun guided prompts such as swear word scramble and This and That to help get your mind in the right place.
GrATTITUDE: Of course, it's not just about you. Or is it? Seriously though, space is provided so you can express thankfulness to the people and things that you're fortunate and lucky to have.
GIFT IT: This funny motivational gratitude journal makes the perfect gift for all adults, especially those who like bullet journals, guided journals, or journals for women. Consider this gift for gag gift giving, holidays, Mother's Day, Father's Day, and more!