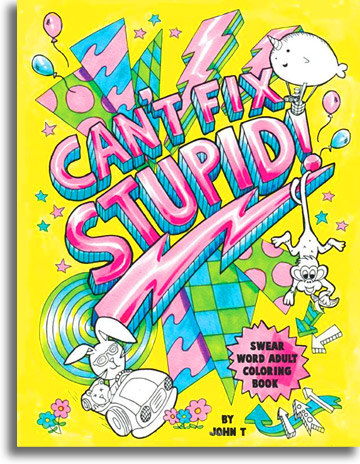 WARNING! This adult coloring book may include:
We know we can't fix stupid. But, when stupid does what stupid does, we can at least color stupid away! Can't Fix Stupid is full of playful vulgar insults and cuss words to help you get your mind off the asshats that try to ruin your day. The coloring book is specifically designed and created with stress, anxiety, adhd, and depression relief in mind. Overall, you will find calm and relaxing patterns and cute animals mixed in with funny and unique swear words and phrases.This adult coloring book makes a great gift for family, friends, and co-workers!
EXTRA STRESS RELIEF! Designed and created with stress and anxiety relief in mind. Your doctor may not like this!
BWA HA HA HA! You and your friends may suffer from non-stop laughing fits! There is no cure!
LESS RAGE! This swear word adult coloring book contains the Rage Page which helps you relax when you need to vent. What are you going to do with your extra time when your venting sessions become shorter?
MORE GIFT VALUE! You may find yourself giving away more presents than you planned! i.e., white elephant gifts, secret Santa gifts, and Christmas gifts for her, him, them, and everyone!
Single-Sided: For your coloring convenience!