Below are a bunch of free printable swear word coloring pages for adults only from my coloring books. You may download, print, color, and share these cuss word coloring pages with your friends, co-workers, family,etc.
These sample pages are hand-selected by me to give you a good idea of what coloring designs you will find in each one of my adult coloring books that I have available for sale. Just tap or click on the image of the free adult coloring page PDF's that you like to print or download.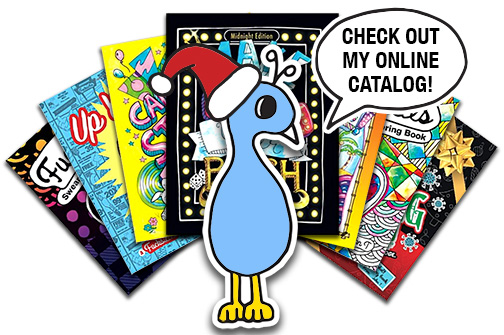 Don't forget to check out my entire CATALOG OF ADULT COLORING BOOKS. All of my books are available on Amazon.com.
---
Also, be sure to sign up to my email list or my Facebook page to be notified of new releases and new free adult coloring pages.
Again, feel free to share these printable coloring pages for adults with your friends, family, or co-workers.
---
FREE COLORING PAGE! Upcoming Road Rage Coloring Book…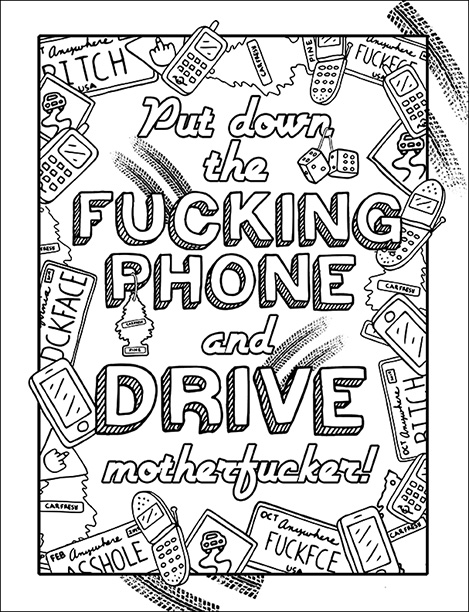 Color and award the following adult coloring pages to your friends!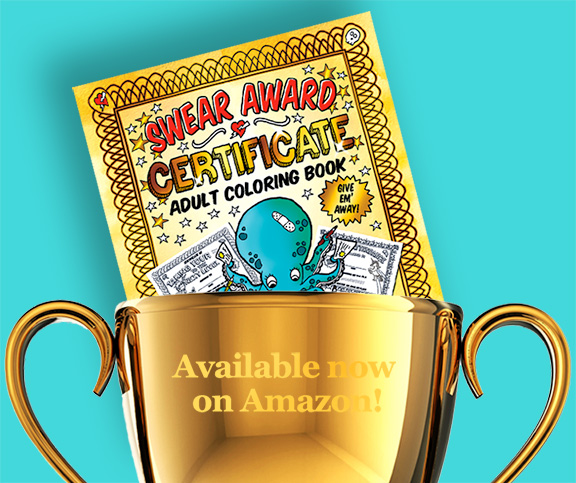 The Swear Award Certificate Adult Coloring Book is available here for just $3.99!
Get it today!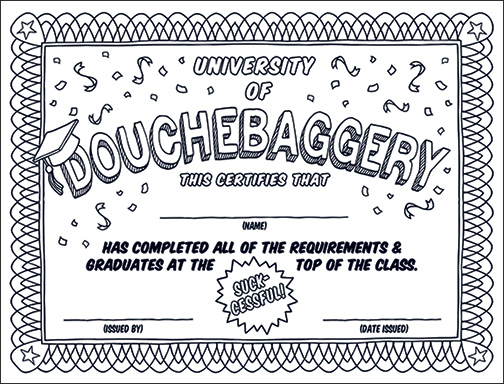 Download and print the "University of Douchebaggery" free adult coloring page here!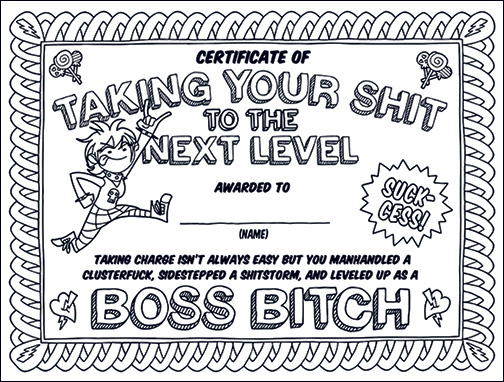 Download and print the "Taking Your Shit to the Next Level" free adult coloring page here!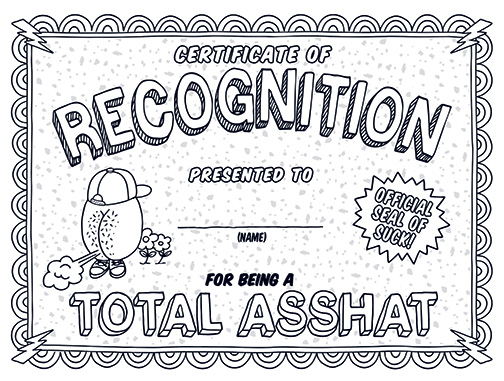 Download and print the "Certificate of Recognition" free adult coloring page here!
---
Free Adult Coloring Page! Color sweary popsicles!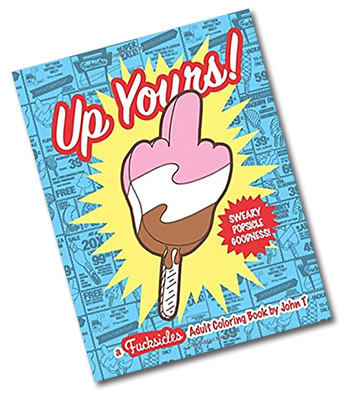 The sequel to the original Fucksiicles is jam-packed with 39 pages and contains playful popsicle letters that form swear words, insults, phrases, and more. In addition, there is a huge variety of coloring designs to choose from including mix of regular coloring pages and midnight edition coloring pages, where the designs are printed on black backgrounds.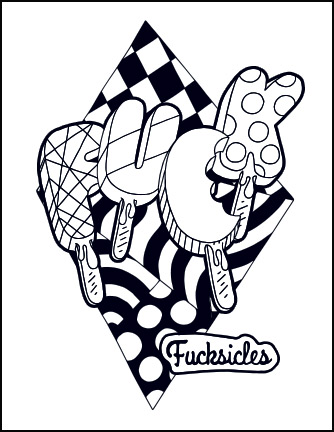 Here is a free adult coloring page from my upcoming coloring book: the sequel to Fucksicles!
---
Free grown-up coloring page!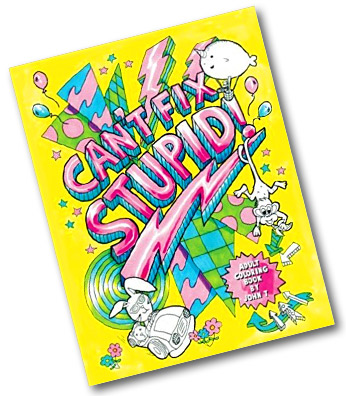 We know we can't fix stupid. But, when stupid does what stupid does, we can at least color stupid away! Can't Fix Stupid, the latest adult swear word coloring book by John T, is full of playful vulgar insults and cuss words to help you get your mind off the asshats that try to ruin your day! The coloring book is specifically designed and created with stress, anxiety, adhd, and depression relief in mind.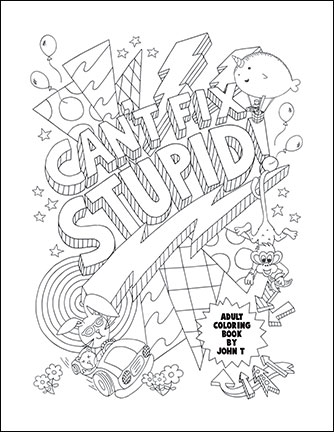 Here is a free adult coloring page from Can't Fix Stupid!
---
Yes! More Swear Word Adult Coloring Pages!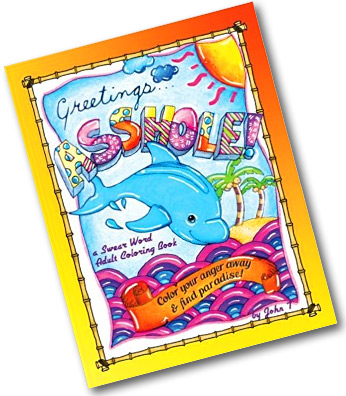 The following free adult coloring pages are from Greetings! Asshole. This book is filled with vintage postcard style inspired designs for you to help you relax while you color. Includes patterned letters surrounded by cute and adorable animals in various locations.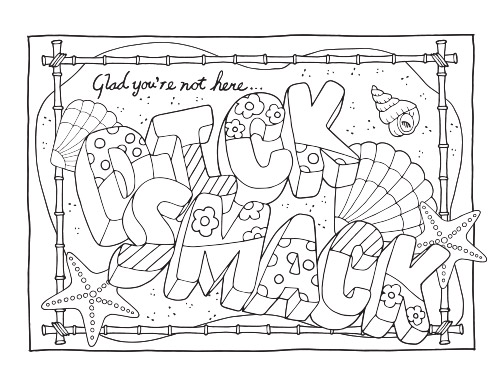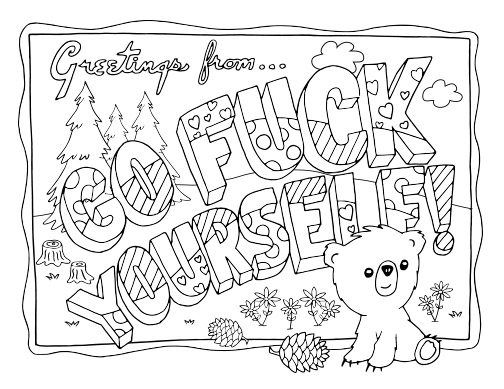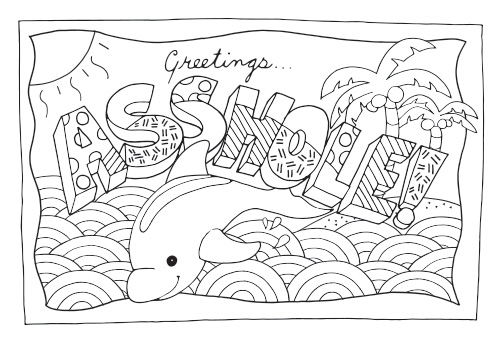 ---
Really? Another curse word coloring page? You bet!

Face it. Life isn't exactly easy. In fact, some days, weeks, months, and years are tough. With such a constant and exhausting whirlwind of chaos, it's a wonder that moments of bliss still exist.
But life doesn't have to be this way. If there is only one life to live, you might as well take the hand you are dealt and do something with it. This is exactly why I created: Make Life Your Bitch. To help you color away your stress, take control of your life, and do a little bit of ass-kicking!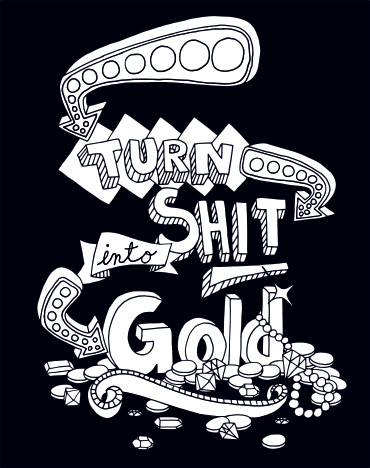 Get this free swear word adult coloring page from Make Life Your Bitch (Midnight Edition)
---
More Sweet Coloring Pages for Adults!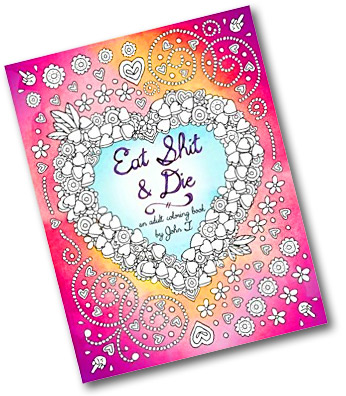 Eat Shit & Die includes an assortment of coloring designs that are made up of conversation hearts, flowers, and leaves. Designs include expletives, dinosaurs, and mandalas which are made out of these patterned shapes!
Check out these free adult coloring pages from my book Eat Shit & Die. The contradictory nature of these designs, the pretty and the vulgar, will help you relax and cope with any stress that comes your way. These adult coloring pages are perfect for coloring sessions with your friends. Don't forget a cup of tea and cookie!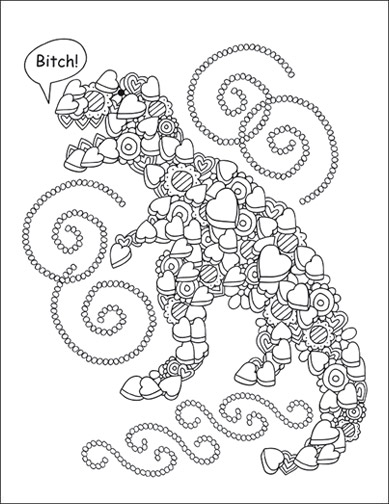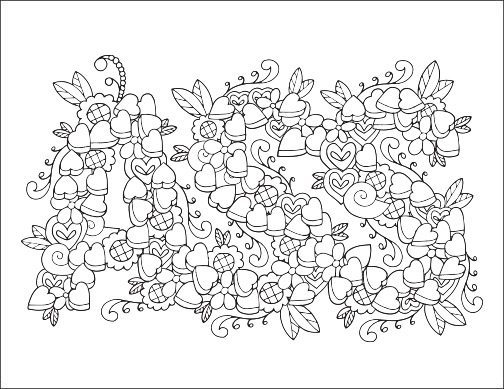 ---
Another Swear Word Coloring Page…damn! For parents?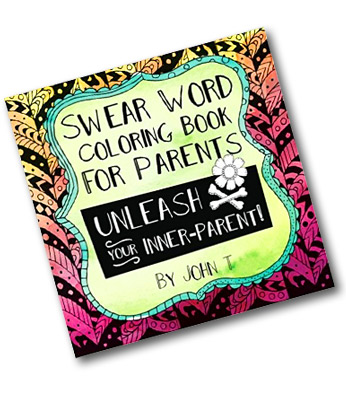 Sometimes, you need a good time out. Especially, if you are a parent. Introducing: the Swear Word Coloring Book for Parents!This swear word coloring page is designed to help you relax and relieve your stress while your kid is turning your night into an absolute nightmare because he or she will not sleep! I know your kid is an angel and the greatest, but even angels can raise havoc!
Use this free adult coloring page when your kid(s) are sound asleep (FINALLY!) and you have a moment of peace and quiet to yourself. Your coloring session will be even better with a tea, wine, cocktail, or other beverage of your choice!
WARNING: You may even find yourself making your kids take daily naps just so you can color!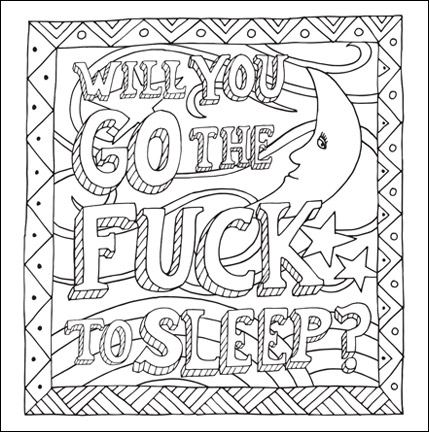 ---

Heck yeah! Another adult coloring page!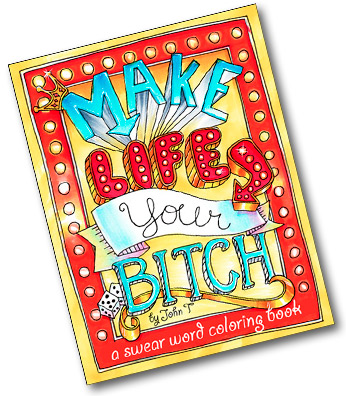 Here is a free printable coloring page for adults from my motivational best-selling book: Make Life Your Bitch. This inspirational coloring page for adults is designed to help you resolve any stress that you may have with a positive slant. In other words, 'turn your stress into success!'
This coloring page is great for your friends or family who need something to uplift them. Surprise your friends and share… give them a dose of motivation and inspiration!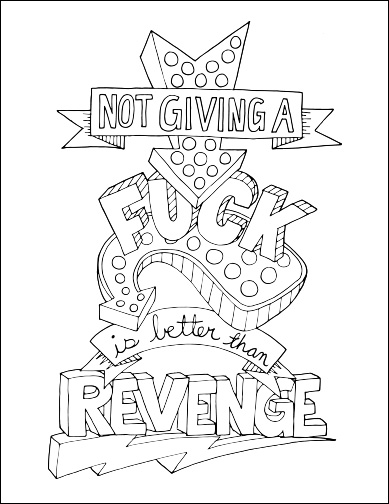 ---
No fucking way…more free printable coloring pages for adults only?!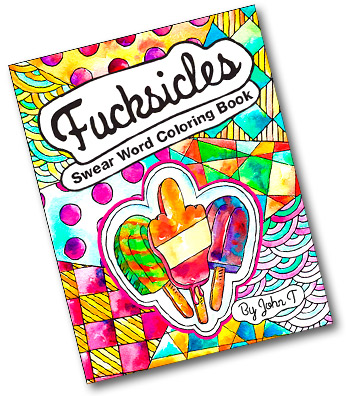 Fucksicles, my very first best-selling book, is jam-packed with retro inspired pattern design and vulgar words made out of tasty popsicles! Several different styles of coloring designs including retro grocery style ads!
Below are some free printable coloring pages for adults only. These grown up coloring pages are great for spring and summer time fun! Chill the fuck out and color with Fucksicles!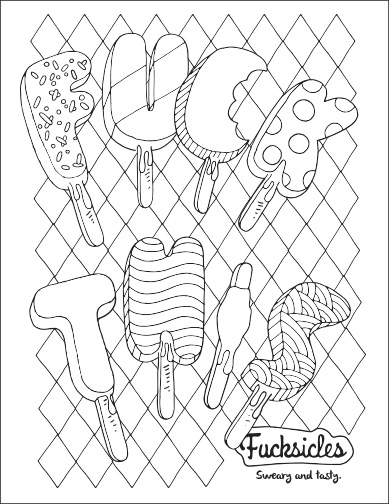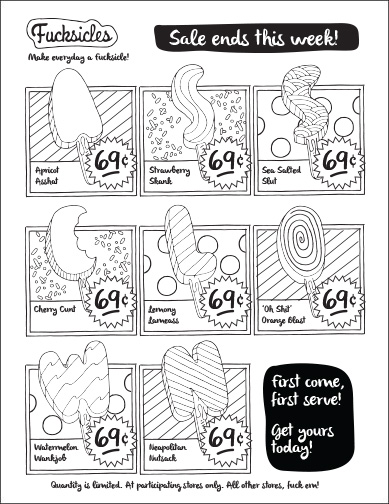 ---
Another one to add to your collection of swear word coloring pages!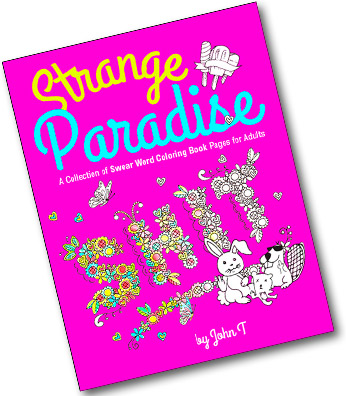 Strange Paradise is filled with an assortment of adult coloring pages. If you are looking for a variety of different styles and themes, this book is defiantly for you.
The free adult coloring page below is an example of what you will find in Strange Paradise.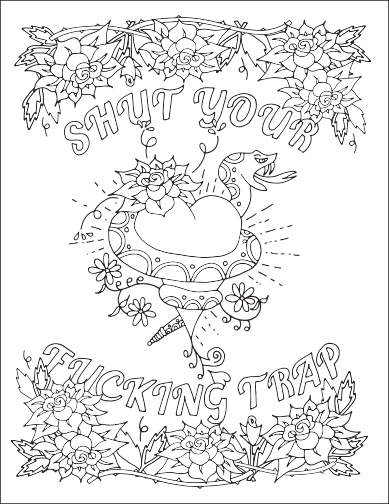 ---
Coloring tips for grown up coloring pages:
Colored pencils, gel pens, and markers work great with my free printable adult coloring pages. You can even use crayons if you want! If you are in need of new coloring supplies, check out my recommendations for colored pencils, markers, and gel pens.
Try using a heavier weighted paper, especially, if you are planning to use markers as your coloring tool on these swear word adult coloring pages. This way you don't have to worry about markers bleeding through cheaper printing paper.
Want to use watercolors for a whole new coloring effect? I have purchased watercolor paper from art stores and fed it through my home printer when printing adult coloring pages. You will want to be careful not to jam or ruin your printer so I would suggest using a lightweight watercolor paper. PS. Use at your own risk. I am not responsible for broken printers!
If a coloring page is too detailed or overwhelming for your liking, take a piece of paper and cut a 2×2 inch square out of the center. Place the piece of paper over your adult coloring page and position the square you cut out over the area you would like to color. This allows you to focus just on a particular area and not be overwhelmed bu the rest of the design.
Try printing out several sheets of the same adult coloring page. This way you can try several different color schemes and coloring styles without worrying about messing up on the only page you printed out. Especially, if you don't have access to a printer for the rest of the day!
If you have "color block," or can't decide on what colors to use for a particular adult coloring page, go to google and search for color schemes. Use phrases like: "retro color palette" or "neon color schemes" or "earthy color palette."
Be sure to test any coloring supplies on a blank piece of paper before using them, even if it is a brand new set. For example, if you have a brand new set of gel pens, you may want to test each color before use. Not all gel pens are created alike, especially within a set. This way you can find out what works and what doesn't before you ruin your masterpiece! This is good practice, especially when you have used coloring supplies for a while. You don't know which coloring supplies are on the verge of drying out and streaking.
---
FAQ about my free adult coloring pages
Can I download and print the same adult coloring page as many times as I want?
Hell yes! You may download and print as many times as you would like. Just keep in mind, I am not responsible when your ink runs out. 🙂
Also, I encourage you to download the same adult coloring page multiple times to experiment with several different color schemes, or in case you mess up and would like to start again.
Can I give away your adult coloring pages to people that I know? What about strangers?

You may give away my adult coloring pages to anyone that you know including your friends, family, and co-workers. And yes, you can give them away to strangers if you like. Just make sure you use your best judgement when passing out a swear word coloring page to a stranger. I am not responsible if you get a dirty look. 🙂
Can I sell your coloring pages for adults?
No. You may not receive any compensation for my coloring pages. My coloring pages for adults are 100% original and under copyright. If you know anyone who is trying to make money off of my pages, please contact me.
I saw your adult coloring pages posted on another site for people to download. Are they allowed to do this?
This is okay as long as they are not making money off of my adult coloring pages. All of my coloring pages have either my website address or some sort of identification. Except for Fucksicle coloring pages which has just the 'Fucksicles logo.'
As long as they are not trying to make money off of my coloring pages by selling them, this doesn't bother me.
Now, if a person or site has covered up my website or other identification, or/and are giving away my coloring pages as if it's their own, please let me know about this.
Can I modify your swear word coloring pages?
You may color my coloring pages however you wish but you are NOT allowed to modify my free printable coloring pages. This includes manipulating the artwork in a software program such as Photoshop or Illustrator, or simply taking something like a sharpie to change the artwork.
Are you going to post more free coloring pages for adults?
Yes, I usually post new adult coloring pages every time I release a new book. Sometimes I will release one, and other times I may release more.
I may also post new coloring pages unexpectedly so defiantly bookmark this page and check back every so often, sign up to my email list to be notified of new swear word coloring pages, or follow me on Facebook. You can also check out my Instagram but I generally just post finished colorings of my work.
Do you have any free printable adult coloring pages that don't have swear words on them?
Not at this time. I am planning on releasing coloring pages in the future that are not swear word related. If I do, I may post them on this site or I may create a whole new site to post them. Stay connected with me to keep up to date about this.
My printer is out of ink and I cannot afford to purchase anymore. If I give you my address, could you send me a free coloring page?
As much as I would like to help, unfortunately, I will unable to do so. If you are unable to print one of my free adult coloring pages, I suggest you try one of the following:
Ask a friend or neighbor if you can borrow their printer to print out a coloring page. Just make sure they don't mind if it's a swear word coloring page.
Some people have had success going to their local library to use their printer. Many libraries allow for free printing or very affordable printing. Now, not every library will be happy that you are using their printer to print a swear word coloring page so use their services at your own risk. Keep in mind I am not encouraging this, but suggesting it as a possibility of you wish.
FedEx, UPS, and copy/print places usually have printers you can use at affordable fees. If not, the clerk behind the counter can usually help you out at a nominal fee.
I get that ink is expensive. But, if you do have some money set aside but not a whole lot, there are other ways to buy ink for cheap.
Most of the generic printing ink out there is not that different than the brand name stuff. Except for the cost. Try searching online for cheap printer ink. You may also try Amazon, Ebay, etc. Just make sure you get the correct ink for the printer model that you have.
Also, check out Craigslist. There is a lot of free stuff on that website. Sometimes people give away free printing ink or just want to get rid of their older printer that has ink included.
If none of the above solutions work out for you, try downloading a coloring app that will allow you to color the page on your computer or a smart device such as your phone or tablet.
NOTE: Sign up to the mailing list or bookmark this page and check back often as I will be adding new free printable adult coloring pages for adults from time to time. If you have any questions or suggestions, please contact me.