Here is what I consider to be the 2o best funny gag gifts for women and men, your friends, family, and co-workers. Gag gifts are a great way to surprise your friends, make a party memorable, or even break the ice. I believe that you can't go wrong with any of these picks that I hand-curated and wouldn't be surprised if some of them leave your loved ones howling in laughter!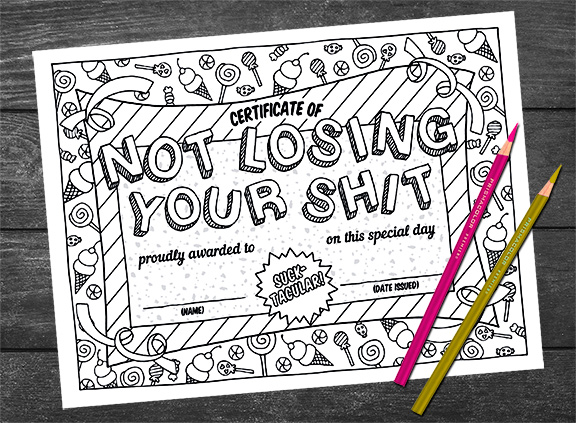 FREE COLORING PAGE FROM MY UPCOMING COLORING BOOK!
These funny gag gifts range in price from about $5 up to $25 for the more expensive ones. They can make funny birthday gifts, Christmas presents, White Elephant Gifts and Secret Santa Gifts to name a few. Gift one to your mother, father, sister, brother, him, her, boyfriend, girlfriend, or whoever else you can think of.
Best Funny Gag Gift Ideas for Christmas and rest of the year!
Be sure to check back often as we will add more gifts when they are released. Enjoy this list of the top gag gifts and let me know if you have any suggestions that you would like to add to the list of the best gag gifts for Christmas!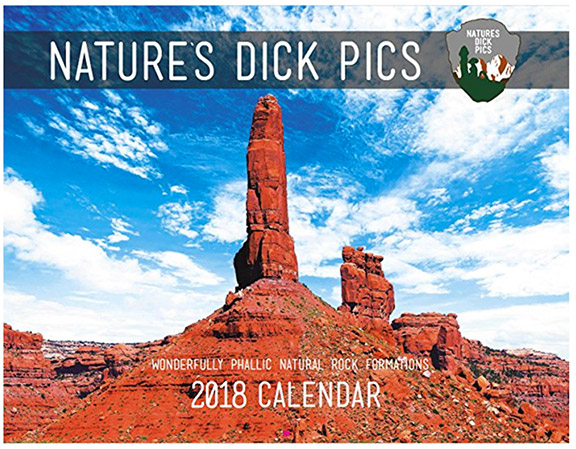 Nature's Dick Pics Calendar
Nature's Dick Pics calendar is the perfect gag gift for any nature lover (no pun intended). This calendar of phallic rock structures from National Parks, Sate Parks, and other locations. This funny calendar was released in late 2017 out of nowhere and became an instant joke gift classic. "The only dick pics you should be sharing" according to their website. This calendar is on the higher end of the prank gift pricing spectrum but well worth it. Perfect gift for your friends, favorite co-worker, or $10-20 gift exchanges.
---

Maybe You Touched Your Genitals Hand Sanitizer
Maybe Your Touched Your Genitals Hand Sanitizer is a classic gag gift and one of my all-time favorite. It's simply a 2.4 ounce bottle of hand sanitizer. Does it work? Hell if I know! But what I do know is that it's funny as hell. Not the type of prank gift you want to give away to your mother-in-law but a funny gift for friends or favorite co-workers. Did you ever think that giving away hand sanitizer as a gift could be so funny? Blue Q, the company behind this hilarious gift, has been around since 1988 and I have been following them almost their entire existence: be sure to check them out here. Perfect gift for your close friends or $10 or under gift exchanges.
---

Bag of Trump Hair Cotton Candy
Whether you love him or hate him, you are sure to surprise with a Bag of Trump Hair Cotton Candy. Believe it or not, this bag of cotton candy is edible. But that's not the point. The point is – it looks like Trump's hair and that's funny! One thing for sure, its sure to spark conversation at the party, gift exchange, or whatever. However, I, nor the makers of this Bag of Trump's here is responsible for what conversation come from it, or what direction the conversations take. Good gag gift idea for $10-15 White Elephant Gift Exchanges and neutral parties.
---

Redneck Back Scratcher
Are you kidding me? Can you imagine watching tv and in the corner of your eye you see your significant other, your friend, or whoever you can picture reaching for a rake and scratching their back with it? Forget about trying to make the recipient of this gift laugh, you would probably find yourself in tears! The Redneck Backscratcher is easily one of the best gag gifts in my book. Makes a funny gag gift idea for friends and family.
---

The Farting Animals Coloring Book
The Farting Animals Coloring Book came out of nowhere in late 2016 and instantly it became a gag gift favorite. Imagine your favorite colorist opening up this gift expecting it to be another one of those mandala coloring books, or an adult coloring book with a bunch of floral designs or zentangle. Instead, they open it up and it's…The Farting Animals Coloring Book? What the…! Imagine the look on their face! This is a good joke gift for your favorite colorist and makes a great $5 Secret Santa or White Elephant Gift Idea.
---

Dehydrated Water
At first glance it doesn't seem like a joke. It actually seems like an ingenious idea. Especially, for survival situations. But, when you read "Just add water" on the label, you began to realize that you just fell for a joke. You need water to make water?! Dehydrated water is one of the best gag gifts you can give to your favorite prepper or survival nut. Makes a good $10 white elephant or Secret Santa gift.
---

Toilet Roll Talker
You might want to save this toilet roll talker for yourself so you can prank your guests. Imagine the friend or family member needing to use your bathroom when they visit. All of a sudden, while using the bathroom, the toilet paper is talking to them! What's even funnier is that it can be in your own voice! You can record up to 10 seconds of your own voice or record up to 10 seconds of your favorite song. This would be super funny if your husband or boyfriend has been neglecting the chores or forgetting to put the toilet seat down. Can you imagine, while they are using the bathroom, all of a sudden they hear: "Hey asshole, when you are done stinking up the bathroom will you remember to put the toilet seat down?" This is a really a great funny prank you can play on your friends or loved ones.
---

Smack a Sack
Got some built-up tension you need to release? Is work becoming a little stressful these days? Do you have an exam you need to study for? Or better yet, do you have a friend that is in need of stress relief? If you answered yes to any of these questions, you might want to consider picking up a pair of Smack a Sack stress balls. Nothing like smacking around a pair of balls when you are under stress. Don't worry, your co-workers will look the other way. Trust me.
---

Unicorn Farts
What's better than a bag of Trump hair cotton candy? How about a bucket of Unicorn Farts? This gift is one that is sure to bring out laughter with all ages. I should know. I chose this gift for the White Elephant Gift Exchange and had my whole entire family laughing. It was a $15 gift exchange but they didn't know the difference. This is a good gag gift for gift exchanges or making your favorite sweet tooth happy.
---

50 Ways to Eat Cock
I almost spit out my orange juice the first time I heard about the book titled: 50 Ways to Eat Cock. At first glance, you think it might be a book about "giving head" but no. It is a recipe book about eating 'cock' as in chicken/rooster. If that's not enough, the tagline reads: Healthy Chicken Recipe with Balls! This is one of the best gag gifts you can give to your girlfriend. Whether she is a girlfriend in the traditional relationship sense, or girlfriend as in just your friend.
---

Pooping Pooches Calendar
If you have a friend or family member who is a dog lover, then you may want to consider this funny gag gift for them. Sure, the Pooping Pooches calendar is a tad gross, but you have to admit, it's hilarious! They may not admit it, but they will want to see the photo on all 12 months. How can you not wonder what's going to be on the next calendar page? Heck, you will probably check before YOU give the gift away! This is a good gag gift for Secret Santa gift exchanges or your favorite dog lover.
---

Cat Butt Coloring Book
I really did spit out my orange juice when I first saw this gag gift. Are you kidding me? Cat Butts coloring book? To me Cat Butts are kinda gross but some people seem to think their cute. Of course, no one is really going to color cat butts. Or, are they? At any rate, this coloring book came out of nowhere in late 2017 and I am willing to bet it makes more splashes for years to come. This is a good gag gift for your favorite colorist.
---

Public Toilet Survival Kit
Do you have friends or loved ones that are germaphobes? You do? Well, that was easy…your gift buying is officially done! No need to look anywhere else when you can play off their fears in a fun, loving, joking matter. Introducing the Public Toilet Survival Kit, a perfect gag gift for your favorite germaphobe, or your favorite person who always complains about how dirty the public toilet is.
---

The Unicorns Made Me Do It
This is easily one of the more unique gag gifts on the list and perfect for unicorn lovers! The unicorns made me do it kit includes a stress relief unicorn doll, a pile of purple magnetic unicorn poop, a magical story card which tells the tale and battle of unicorn vs stress, and a drawstring gift bag. A perfect joke gift for your friend, family worker, or co-worker who is going through a lot of stress and needs a little bit of relief.
---

Nap Sack Sleep Hood
The Nap Sack Sleep Hood isn't even a gift. Instead, it's a gag gift box that you put the present in. When the recipient takes the wrapping paper off, they discover what they think is their gift: a Nap sack!? What? Are you kidding me?! You want me to where this thing over my head when I take a nap? In public? In church? What?! The recipient thinks they are getting this stupid nap sack when in reality, when they open the box, they discover their actual gift! The company behind this genius creation has a whole assortment of these type of boxes. Surprise your friends, family, and co-workers over and over again.
---

Retro Hotdog Toaster
Do you have a friend, family member, or co-worker who eats hotdogs all of the time? Well, there isn't a better gag gift for someone who is obsessed with ball park franks than a retro hot dog toaster. But it's just not any hot dog toaster, it's a retro one! And it really works! Just plop in two hot dogs and two buns and within 5 minutes you have yourself a hot dog ready to eat! Just don't forget the mustard, ketchup, and relish!
---

Giant Sack of Shit
We have all seen fake poop, am I right? Either you played a prank on a friend, or a friend played a prank on you, or you've seen someone prank another with fake poop. If it wasn't fake poop then it was probably fake vomit. At any rate, is there a better way to prank someone with fake poop than with an entire bag of it? The giant sack of shit is a bag filled with an assortment of fake poop. It even has a couple of fake poop that looks like bear scat. This is a good gag gift for friends or family members. Or consider leaving this on one of your co-workers desk when they are not looking. Now that would be funny!
---

Ring Holder
Jewelry boxes are a thing of the past! Why use a jewelry box to store your rings, bracelets, and necklaces when you can display your bling bling on a flexing stud muffin ring holder? If you are a woman, this is a funny gag gift for your best friend, and if you are a guy, this is a funny gift for your gay friend. This male figurine can hold jewelry on it's flexing arm or it's D@$%.  A great gift for your close friends or for bachelorette parties.
---

50 Shades of Chicken
Remember the hit erotic romance novel and motion picture "50 Shades of Chicken?" How could you forget it, right? This is a super funny gift for your friend or family member who is obsessed with that movie. 50 Sales of Chicken is a parody cook book with all kinds of sensual and sensual recipes for those late nights. How could you resist gifting this to your favorite 50 shades of Gray fan?
---

Farting Coin Bank
Collecting coins has never been so much fun. If someone gave me the farting coin bank as a gag gift, I would probably be in the supermarket parking lot searching for coins of any type. Even pennies! Every time you insert a coin in the back of this plastic mooning butt, it makes a farting sound. The only bad news is that it takes 3 triple A batteries. Sure the batteries may last a while but I have a huge jar of coins just waiting to be inserted. Those batteries won't last long! A good gift for Secret Santa gift exchanges, your family, friends, and co-workers.
---
Thank you for checking out what I consider to be the 20 Best Funny Gag Gifts for Women and Men. Be sure to contact me if you have any gag gifts, prank gifts, or joke gifts you would like to add to the list of the best gag gifts for Christmas. Just contact me here. You can never have too many of these gifts and you can never give too many of them away!